---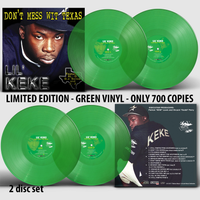 Lil' Keke - Don't Mess Wit Texas (Vinyl Record) (2 Disc Set)
Lil' Keke
2017 PRESSING
To celebrate the 20th Anniversary of LIl' Keke's "Don't Mess Wit Texas" from 1997 SoSouth and 7 Thirteen Music release this special double vinyl set. 
*In-Stock/Shipping Now*
-GREEN VINYL (700 PRESSED)
DETAILS:
-Lil' Keke's CLASSIC DEBUT album originally released on CD, but selling the most on CASSETTE back in 1997, distributed then by Southwest Wholesale.
-Executive Producers were Patrick Lewis and Vincent Perry for JAM DOWN RECORDS. The label also release music from AL-D, The Most Hated & AGGRAVATED. 
-This is the first significant hit solo album from an SUC member. It features what is now a heartbreaking collection of Houston Legends that left this world too soon (FAT PAT, BIG MOE, MR. 3-2 and DJ SCREW).
-Contains the one of the BIGGEST Houston Hits of ALL-TIME "SOUTHSIDE". 
-This is the first place most people ever heard Big Moe two years before his debut album.
-The artwork for this vinyl project was gathered from the original graphic artist Jeremy Lang and other sources.
-The 12" x12" insert has an artistic drawing of LIl' Keke by Ash Gonzales and images from the original cassette insert. 
-2017 Layout by SoSouth's Chris Villareal.
-2017 Executive Production for this re-issue by Lil' Keke with SoSouth's Randy Haaga & Steve Phelan.